Data Engineering & Analytics
Data Engineering & Analytics
Experts in the application of data science for predictions, forecasts, business insights
Looking for a Data Engineering and analytics?
InnoBoon's expert Data Engineering and analytics team, through the portfolio of data services, helps organizations monetize and maximize the value of their internal data. InnoBoon follows a curated approach from aggregating data to embedding the most advanced AI/ ML models. This massively helps enterprises to identify the business, financial, operational, and other technical drivers to improve their top-line and achieve superior operational efficiency.
InnoBoon has extensive experience in Data Extraction, Transformation, and Loading (ETL) from a wide variety of sources including legacy applications, ERP systems, CRMs & other web content, Standard relational databases, NoSQL Database (MongoDB), on-premise/cloud-based applications, Files (e.g. XML, Excel, CSV, flat files) and web service APIs. Our Enterprise Data Integration skills extend to cutting-edge ETL tools and support the delivery of reliable data integration solutions to our clients.
InnoBoon ensures decision-makers have accurate and relevant information to make fact-based decisions by providing data strategy & information management consulting services in the areas of cloud data management, enterprise data strategy, data warehouse modeling & data warehousing, data mining, data analysis, data migration, big data consulting, data cleansing, master data management, and data integration services.
InnoBoon accelerates business infrastructure and agility with AI expertise, technical services, and machine learning capabilities. With our expert AI developers and platforms we have a full suite of AI/ML services to develop, deploy, and manage AI-enabled solutions. we help to leverage AI/ ML algorithms to cater to business needs and give web and mobile solutions the capability to learn, improve, and adapt over time.
InnoBoon leverages data and machine learning algorithms to add value to businesses and extract valuable business insights from the data to better understand the audience, forecast demand, reduce risks, prevent cost overruns, and much more.
InnoBoon approach BI as a critical component of growth, stability, and market penetration for the organization by driving data collection, analysis, assessing and validating gathered data, making models to evaluate behaviors, and implementing new methodologies to make data-driven decisions.
How InnoBoon benefits its clients?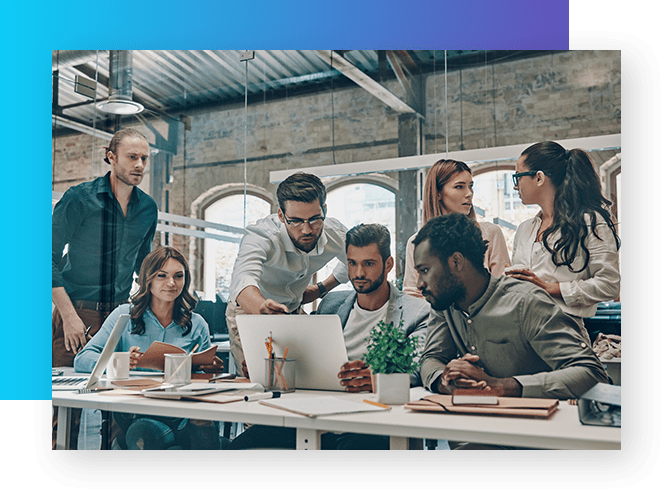 Data Driven Transformation at rapid Speed, Agility, Quality
Robust, Repeatable, Customizable Templates, and Frameworks
Ready-To-Deploy Managed Analytics Services with no build-up cost
End-to-End Data services integrated with Cloud, Tech Stack services
Aggregation of Data in Silos to generate Business Insights
Higher efficiency and growth through Data Driven decision making
Data analytics solutions that provide a comprehensive approach to data engineering and enterprise test data management, addressing all of the technical drivers necessary to effectively capitalise on your business's data resources.
Create data ingestion pipelines that transport streaming and batch data to a data lake from pre-existing databases, diverse sources, and data warehouses
Perform data intake utilizing the most performant and scalable commercial data ingestion solutions, or by combining open stack Data stitching for SQL and noSQL databases
Create data pipelines from scratch or by utilizing the capabilities offered by major cloud platform suppliers
Automation of data pipelines utilizing technologies such as PySpark, Data Bricks, and Snowflake
Use NLP-based algorithms to manage unstructured data
Data mining and document/search storage (BERT, knowledge graph-based taxonomies)
Regardless of where you are on your data and analytics journey, we can work with you to create value from your data on an industrialized scale with compelling adoption rates. InnoBoon, a major supplier of data management and analytics services and solutions, offers services that span the whole spectrum of analytics work done in a business, from insights and modelling to ML and AI.
Predictive Analytics: Use structured and unstructured data to forecast future events, such as a preference, trends, customer attrition, next-best action, the influence of consumer involvement, viral events, and so on
Machine Learning: Apply cutting-edge algorithms to extract value from complicated and large amounts of data, such as recommender systems, dynamic pricing, and so on
Anticipating: Improve operations and planning by forecasting demand, revenues, and shipments, as well as forecasting client conversions (freemium to premium)
Text Analytics and Natural Language Processing (NLP): Extract meaningful insights from text data, such as discussion themes, subjects, emotion, content enrichment, customer satisfaction (CSAT), and so on
Optimization: Achieve optimal revenue, margin, or cost in a particular decision framework, such as maximizing marketing reach, optimizing resources, and optimizing assortment
Business intelligence tools, such as data discovery, data reporting, and data visualization, are crucial to an organization's capacity to consume data and make sound choices. The Business Intelligence and Visualization services assist enterprises in putting accurate and actionable data at the fingertips of diverse stakeholders.
Services for managed reporting: Expertise in designing and delivering business intelligence and data reporting solutions on top platforms such as Tableau, QlikView, PowerBI, Looker, Oracle, and Microstrategy
Visualization and dashboards: Expertise in producing dashboards that aid decision-making by encapsulating enormous quantities of data in understandable graphical storyboards, as well as visualizations that gather and show large amounts of information in simple and accessible ways.
To get the most out of your marketing efforts, we need to look beyond simply assessing the performance of your marketing operations. Understanding the competitor's behavior, as well as the latest channels and breakthroughs to capitalize on, is critical. InnoBoon combines the finest of market research and marketing analytics to help businesses assess, optimize, and innovate.
Determine the efficacy of marketing expenditures and forecast return on investment
Understand customer attitudes and industry trends by generating insights from social media data
Create and improve multi-channel attribution models in order to determine the most effective marketing channels
InnoBoon aids in the generation of a "360-degree" perspective of client behavior and the deployment of customized offers.
Life in a digital environment has resulted in an increase of options and a decrease in attention spans. Companies that understand what their consumers genuinely want and make their decision-making journeys relevant will maximize their profits and pleasure their customers. We assist companies in recognizing their customers' journeys and lifetime values, as well as in using advanced analytics tools to fine-tune offerings and enhance marketing activities.
Identify, recruit, and keep customers with the assistance of our data analytics research team to increase profitability
Improve your understanding of consumer behavior and utilize segmentation to improve targeting
Personalize your services to increase client engagement and maximize your investment returns
Understand who your best customers are
Prospect conversion is no longer an art. InnoBoon's Sales Analytics products and services are custom-designed to transform your sales teams into efficient selling machines. Our solutions enable you to monitor and track all sales actions that lead to conversions. We also use our research and analytics skills to uncover growth possibilities and create incentive systems that get the most out of your sales personnel.
To get the most out of sales teams, optimize Salesforce use and territory management tactics
For improved outreach and coverage, precisely forecast markets and sales possibilities
Analyze sales team performance and create incentives that enhance productivity and profits
Track and measure sales team performance across products and segments to reduce sales costs
03
Healthcare Analytics
• Monitoring of the patient's health status, as well as condition-based alerts
• Treatment optimization for patients. Risk assessment of patients and recommendations for individualised treatment plans
• Proactive care (identifying trends and patterns in a patient's health that necessitate a doctor's attention)
• Healthcare insurance fraud detection
• Prediction of medical staff workload and optimization of work shifts
• Clinical space and equipment use are optimised.
04
Transportation & Logistics Analytics
• Analysis of inbound goods, customer delivery schedules, vehicle availability, and employee shift schedules is used to plan and optimise operational capacity
• Vehicle maintenance is made easier using predictive analytics (failure prediction, recommendation of maintenance actions, etc.)
• Forecasting vehicle demand
• The study of driving behaviours is used to predict the best amount of gasoline required
• For secure cargo transportation, IoT data analytics (data on cargo temperature, humidity, etc.; data on driver behaviour, data on vehicle condition, etc.) are used
05
Supply Chain Analytics
• Identifying demand factors, anticipating and planning consumer demand
• Monitoring and evaluating supplier performance
• Route optimization using predictive analytics
• Inventory planning and management, as well as determining the ideal quantity of inventory to fulfil demand and avoid stock outs
• Identifying patterns and trends throughout the supply chain for improved risk management
With InnoBoon, you get a dedicated and skilled team backing you up round-the-clock. All our processes are customer-oriented, designed to reduce the cost of business operations, address IT resourcing challenges, and offer you a competitive edge. We start with a deep analysis of your requirements and continue our relationship with post-launch support & updates.
KPI/Dashboard Definitions
// our clients
We are Trusted
15+ Countries Worldwide
Moonkle LTD,
Client of Company
"Very well thought out and articulate communication. Clear milestones, deadlines and fast work. Patience. Infinite patience. No shortcuts. Even if the client is being careless. The best part...always solving problems with great original ideas!."
SoftTech,
Manager of Company
"Patience. Infinite patience. No shortcuts. Very well thought out and articulate communication. Clear milestones, deadlines and fast work. Even if the client is being careless. The best part...always solving problems with great original ideas!."
Moonkle LTD,
Client of Company
"Very well thought out and articulate communication. Clear milestones, deadlines and fast work. Patience. Infinite patience. No shortcuts. Even if the client is being careless. The best part...always solving problems with great original ideas!."
SoftTech,
Manager of Company
"Patience. Infinite patience. No shortcuts. Very well thought out and articulate communication. Clear milestones, deadlines and fast work. Even if the client is being careless. The best part...always solving problems with great original ideas!."